Islam is the state religion of the Kingdom. It is practiced by more than 70% of residents. Christians, Buddhists, and Hindus make up the rest. A small percentage of residents do not profess any beliefs. The Church is not separated from the state. Sharia (Muslim law) laws apply in this regard. The principle of religious freedom is laid down in the Constitution. It is observed. There is no religious persecution here. Representatives of faiths other than Islam have the opportunity to freely observe their rituals and celebrate holidays.
Bahrain began to receive tourists not so long ago, despite the fact that neighboring countries are very popular. That is why many vacationers …
Read further
The Muslim community is diverse. Sunnis consider the Bedouins to be their ancestors. Shiites believe that they are descended from the Prophet. Shiites are mostly from the Baharna ethnic and religious group. They are conservative and devout. Sunnis and Shiites settle separately from each other. Different judicial authorities handle their legal disputes.
The social position of women in Bahrain is better than in most Arab countries. Women can work here. They make up about a third of the country's workforce. They have access to medicine and education. About 60 % of women have higher education. Many women are in business. The share of women is still small in politics. There are not them in the government authorities. There are no official laws that infringe on women's rights. But the legislation comes into conflict with Sharia law, which requires women to cover their faces and bodies. Most women wear a chador that leaves their faces exposed. Women from more conservative families wear a niqab that completely covers their face. The locals are tolerant of foreign women. But you should cover your legs and shoulders. There are also certain requirements for foreign men. It is forbidden to appear in public in shorts and sportswear. Copyright www.orangesmile.com
Bahrain is a very expensive country. However, many tourists try to bring souvenirs from this beautiful place. The first thing that you should visit is …
Read further
Such democracy is due to the fact that the economy of Bahrain is developing rapidly, which is why many foreigners come to the country. Bahrain can be called the freest of Muslim countries. Residents of other Arab States often come here on vacation to relax. Alcohol is sold and consumed in the country. Morals become stricter during the Holy month of Ramadan. The believers are fasting at this time. It is forbidden for Muslims to eat and drink during daylight hours during this period.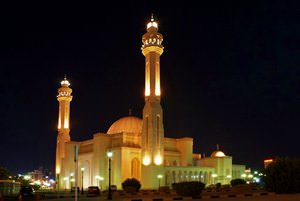 Religion has an impact on etiquette. Traditionally, the left hand is considered unclean because it is used for ablutions. It is allowed to take food and money, shake hands only with the right hand. You must remove your shoes when entering a mosque or house. You cannot point your feet at the interlocutor, persistently look into the eyes of the interlocutor, eat during walking, and actively gesticulate during the conversation.
Bahrain is an Islamic Kingdom. Most of the local holidays are religious here. Several festivals are also held here. The New Year is not celebrated on …
Read further
Family is extremely important for the people of the country. Women get married very early, starting at the age of 14. Men marry later – in 20-22 years. It is customary to pay a ransom for brides. Polygamy is permitted by Sharia. But each wife should have a separate comfortable home. There are also temporary marriages (muta). They are accepted exclusively by Shiites. A woman receives a reward at the end of such a marriage. The rights of a woman are formally equated with the rights of an ordinary wife. Her children are also considered legitimate. She is entitled to a mahr (gift from her husband). The marriage can be extended an unlimited number of times. A woman must take a break before entering into a new marriage after it ends. This break is necessary to make sure that there is not a pregnancy. During this break, which lasts from 4 to 20 weeks, the husband continues to support the wife.
The culture of Bahrain began to develop rapidly after the country's independence in 1971. In addition to traditional arts, modern art is also developing. Such trends as impressionism, expressionism, and surrealism are becoming popular. Exhibitions of contemporary art are held regularly. Museums and several galleries are used for this purpose. It is worth noting the art of Arabic calligraphy, pottery, jewelry, and blacksmithing from traditional arts. Literature also began to develop rapidly at the end of the XX century. Strong Western influence is inherent in it. There are many women poets who publish their works in Bahrain unlike other Islamic countries.
Bahrain is a new experience for the world. "Land of contrasts" may be an overused term. But travelers consider the country a unique pearl in the …
Read further
Traditional music in Bahrain was influenced by Arabic, Indian, and Persian music. Saut, Fijri, and Liwa are the most popular genres. Residents of Bahrain have long been engaged in pearl mining. Pearl fishermen created their own layer of culture, including music. Fijri is a song of pearl fishers. It is worth noting that there are coastal songs and songs performed at sea. Liwa is the music of people from Africa. Saut is Arabic music played on oud, percussion instrument, and rebab. Modern music also exists. There are bands that perform rock. There are also recording studios in Bahrain. Cinema is not prohibited. But local movies are almost never made.