Despite the fact that Bahrain is considered quite a modern and a rapidly developing country, the locals do not cease to follow the cherished customs of their ancestors. They respectfully observe their traditions and have much respect for them. Here it is normal to devote much time to moral and spiritual development, which is definitely based on spiritual teachings of Islam. Young people have great respect for elders. All important decisions are made only younger generation receives permission. Religious traditions do not allow the local people to eat pork. Alcoholic beverages are also under a severe restriction. Smoking is also not approved, but there is no strict ban on it.
Bahrain is a wonderful country notable for its numerous historical, religious and natural attractions. In order to see all the important places, you will need to spend here more than one …
Open
The clothes of the local people is also very distinctive and quite unusual. Women wear loose clothing that literally covers the whole body from head to toes. Such national women's clothing is called "Abaya". A large headscarf is an essential attribute of the national clothes. Bahraini women use it to cover their faces and hide them from prying eyes. Men in Bahrain also wear wide trousers, shirts and coats. Headscarves are also common among the local men, but they cover only the upper part of a head. Local men often wear beautiful gowns. By the way, there are either summer or winter versions of this detail of clothes.
It's natural that these local rules and regulations concern travellers only partially. Thus, you shouldn't take into consideration any strict limitations when you select your wardrobe for the trip. The only rule that should not be forgotten - do not appear in the streets of the city wearing revealing and sexually appealing outfits. Such behavior will certainly cause a negative reaction and can be easily misinterpreted. You will not find any problem with purchasing alcohol in local shops and restaurants, but please keep in mind that you cannot drink it in public places and on the streets of the city. Copyright www.orangesmile.com
When it comes to describing the entertainments, which are offered in Bahrain, the first thing, which is definitely worth mentioning, is numerous colorful markets and shops. Bab Al Bahrain …
Open
When you plan to visit religious sites of Bahrain, you should also keep in mind some important nuances. Tourists can enter mosques only if they wear proper clothes. This means your outfit should be as closed as possible. Before you enter a mosque, you must take your shoes off. When you observe a mosque, there may be some people inside who have come there to pray. Make sure you pass these people only behind them. The residents of Bahrain are very hospitable and friendly, so in no case should you refuse an invitation to drink a cup of tea or coffee. The local markets have already become a true national treasure. Many indigenous people spend a whole day in these markets, talking with friends, drinking coffee and discussing the latest news with passers-by.
Bahrain is a country where foreigners can often be seen on the streets; business and industrial exhibitions often take place in its capital. As well as festivals of different directions - music, gastronomy, sports. Thus, in mid-October, the capital of Bahrain welcomes participants from all over the world at Bahrain International Music Festival. Lilou cafe serves as a venue for the event. And since the event is held in an establishment of such a kind, in addition to music, the gastronomic program is prepared for all the participants.
1. Despite the fact that one can easily purchase alcohol in Bahrain, it must be drunk in specially designated areas only. Note that it is restricted to walk in the streets of the country …
Open
In early February, you can witness such an event as Bahrain Annual Fine Arts Exhibition. The exhibition takes place in the Bahrain National Theater. This event brings together artists from all over the country to demonstrate their talents to the general public. Here you can see many styles and directions, from calligraphy to surrealism. An extensive program is waiting for visitors - exhibitions, debates, meet-and-greets, master classes. Since the festival focuses on the art of Bahrain, it is an ideal event for getting to know the local culture.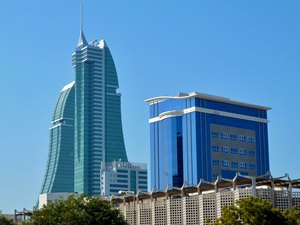 Bahrain Summer Festival is another event taking place in Manama, which is definitely worth a visit. During the event, you can listen to traditional music of Bahrain performed by locally famous musicians. In addition, the entertainment program includes workshops, art exhibitions, and the festival itself is positioned as a family event. The event lasts a whole month, starting in early July and ending in early August. The venue for the festival is such cultural institution as Bahrain Fort Site.
Lovers of tasty food flock to Manama at the end of February. During this time you have a chance to participate in the Bahrain Food Festival, the venue for which is the most famous hotel in Manama - Four Seasons Hotel located on Bahrain Bay. Be sure to try such delicacies as mashed dates, Balalis (eggs with sweet noodles), Jalebi (fried pretzels) to get to know the multifaceted culture of Bahrain. Here you can also find other types of traditional dishes, but the most honorable place should be given to the local cuisine, of course. In addition to gastronomic entertainment, music and specially prepared children's programs await the audience.
Some hotels in Manama are unique, so they are known not only outside of the city, but also in other countries. The Westin Bahrain City Centre situated in the same building with the largest …
Open
In late October, visitors to Manama are delighted by the Sea Festival - the largest event of its kind in the whole kingdom. It takes place on Bahrain Bay and is free of charge. Since Manama is favorably located near the Persian Gulf, this festival introduces visitors to the rich marine culture of Bahrain. During the event, visitors are shown photos and videos; they can also buy seafood or all kinds of handicrafts made with the use of sea creatures at an exhibition operating here. This festival is a true paradise for divers and fishermen because these entertainments are as relevant as ever during this time.
Bahrain Consumer Products Fair is perhaps the largest fair in Bahrain. It is held in late January at the Bahrain International Exhibition Centre. At this time, the capital of Bahrain is visited by hundreds of businessmen who demonstrate their products to the public. Another business event, the Bahrain Bay Business Forum, is held at the same time. Four Seasons Hotel has been chosen as the venue. The festival provides ample opportunities for entrepreneurship and building strong partnerships. The event is widely covered in the media.
National traditions of Bahrain
Religion has an impact on etiquette. Traditionally, the left hand is considered unclean because it is used for ablutions. It is allowed to take food and money, shake hands only with the right hand. You must remove your shoes when entering a mosque or house. You cannot point your feet at the interlocutor, persistently look into the eyes of the interlocutor, eat during walking, and actively gesticulate during the conversation. …
Open