This is surprising but the nightlife is extremely well developed in the Muslim Kingdom. This is primarily due to the tolerance of the authorities and numerous foreigners in the country. Bahrain is called the "Hawaii of the Middle East". Everyone will find entertainment after sunset. There are discos, karaoke, and live music clubs throughout the country. Adliya is particularly famous for its nightlife. This is the Bohemian district of Manama. Upscale hotels offer numerous night entertainment options. Alcohol is allowed in the country, including in clubs. This attracts tourists from other Arab countries, which are more conservative.
1. You should carefully study the local hotels and carefully read the reviews of each of them before traveling to Bahrain. All this is necessary …
Read further
Diving is gaining popularity in Bahrain. There are many dive centers here. Warm coastal waters are rich in marine life. More than 400 species of fish live here. There are also a couple of hundred species of corals that are home to marine life. The northern waters are richer in wildlife. However, manatees are found in the south. Rec-diving (from the word "shipwreck") is also popular. There are many wrecks of sunken ships of different time periods off the coast. Drift diving is also popular in the north. This is diving in the current. Pearl fishing and sponge collecting are also common.
Pearls produced off the coast of Bahrain are the best in the world. The chance of finding an oyster with a pearl inside is very high. It is about 1 in 100. You can keep all the loot. The high water temperature even in winter (20 °C) allows diving all year round. However, it is better to do this from June to September. There are no strong currents at this period. There are surf schools in Bahrain. The coastline and weather conditions are perfect for this sport. The best places are located in the north, near the capital. Kitesurfing is also popular. Copyright www.orangesmile.com
Bahrain began to receive tourists not so long ago, despite the fact that neighboring countries are very popular. That is why many vacationers …
Read further
Bahrain has been the center of the Middle East for thousands of years. It's pointless to go to the country if you don't have the desire to visit some of the cultural treasures of the Kingdom at least once. Brave travelers can start their adventure with the fantastic Bahrain National Museum. You can also go to the pearl heritage of Muharraq. It includes a number of former Royal residences and merchant houses.
There is a unique opportunity to ride thoroughbred Arabian horses in Bahrain. This is one of the oldest breeds of horses bred on the Arabian Peninsula in the IV-VI century. They are characterized by low growth but incredible grace and beauty. Numerous stables and riding centers offer horseback riding along the coast or in the desert. Fans of faster driving can ride in a jeep through the desert. You can do this not only as a passenger but also as a driver. A visit to any Arab country is not complete without riding camels. It is also a popular entertainment in Bahrain. For example, you can visit the famous Tree of Life on a camel.
Bahrain is a very expensive country. However, many tourists try to bring souvenirs from this beautiful place. The first thing that you should visit is …
Read further
Glamping in the desert is a rather exotic local entertainment. The word is formed from a combination of the words "camping" and "glamorous", which seems to be mutually exclusive concepts. Everyone can feel like Lawrence of Arabia in a luxurious tent with Wi-Fi, comfortable furniture, and beds. Several companies offer such services in different locations. Bathrooms, playgrounds, and a TV are provided for tourists. This service is popular. So it is better to book places in advance. The period from November to March is the best time for glamping.
Hiking and trekking are very peculiar in Bahrain. The islands are almost flat. The highest point is only 122 meters above sea level. However, the coastline is 160 kilometers long. Therefore, trekking consists of hikes along the coastline. There are also routes in the north, near Al Qurayyah. They are of varying degrees of complexity. You can also find routes near Madīnat Isa. There are no real mountains or hills in the Kingdom. But mountain biking is still popular. You can take a day trip on a mountain bike around Manama. You can rent equipment in the capital.
Bahrain is an Islamic Kingdom. Most of the local holidays are religious here. Several festivals are also held here. The New Year is not celebrated on …
Read further
Shallow and warm coastal waters are rich in fish. More than 300 species of fish live there. Fishing is popular with locals and foreigners who live in Bahrain. Parrotfish, angelfish, grouper, Barracuda, clownfish, and other inhabitants of tropical reefs are found here. Hotels and travel agencies organize fishing trips. There are not many beaches where you can actively spend time outdoors. But they are very good: wide, spacious, with fine sand and the necessary infrastructure. You should not abuse the tolerance of Bahraini residents to visitors. You should not wear an overly open swimsuit on public beaches that do not belong to hotels. It is not recommended to wear short swimming trunks for men. It is better to wear swimming trunks with shorts.
Bahrain Al Beach is a popular destination for families, especially with children. Bahrain Amwaj Beach is a good place for kite-surfing. It is also popular with jet skiers. Other tourists may find it a bit noisy here. Bahrain Arad Fort is a small beach near an Old Fort. It is popular for picnics, walks, and beach games. A wonderful view of Manama opens from the Bahrain Hidd beach at sunset. The beach is also more popular for picnics than swimming. Bahrain Jazair is a kilometer-long beach popular with locals. There is a lot of entertainment for children here. You can find the rental of various equipment on the beach. Bahrain Karbabad is a picturesque place near the Bahrain Fort.
Bahrain is a new experience for the world. "Land of contrasts" may be an overused term. But travelers consider the country a unique pearl in the …
Read further
The creation of the Al Areen Wildlife Park was the Kingdom of Bahrain's response to wildlife conservation in the Middle East. The hope was expressed that the creation of such a reserve would facilitate the implementation of similar projects in other countries of the region. The wildlife sanctuary was built to protect rare Arab species, including Oryx, Adax, and Reem Gazelle. It is ideal for families and animal fans. You can explore it and enjoy the opportunity to see animals in the wild. Tourists will be able to spend informative leisure time, as well as ride-on elite horses here.
There is one of the brightest night clubs in Bahrain at the Ramee Rose Hotel. The dance floor fills up most weekends. The public is attracted by free drinks for ladies and extended "happy hours " for visitors. Tourists can have fun at discos that attract them with bright neon signs. Ramee Grand club is the heart of Bahrain's nightlife. It is constantly becoming an ideal place for foreigners to relax at night.
The Kingdom of Bahrain is rapidly gaining popularity as a resort destination. This ancient country was founded approximately 5000 years ago. The name …
Read further
The country's nightlife has something for everyone. The island is located off the eastern coast of Saudi Arabia. This makes it a hot spot for Americans, Europeans, and Middle Eastern countries traveling in the region. Saudi cities such as Dhahran and al-Khobar are located near the commandant's office of king Fahd, which connects KSA to Bahrain. This creates convenient access to the island. Clubs and bars that reflect the diverse nationalities in the region are combined in the state. In addition, the island is popular among travelers because alcohol is allowed here.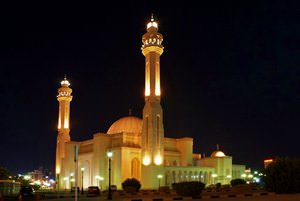 Spring of Culture is quite a popular event. Foreign guests will be able to join the national music during it. Dance festivals are held on the island during this period. Guests can take part in competitions for the best singer or performer of Latin American dances at night. This is the brightest cultural festival in the Persian Gulf region. Performers, artists, and writers from all over the world celebrate all cultural dates together during the month. Traditionally, the schedule is so busy that guests have to book seats months before the celebration.