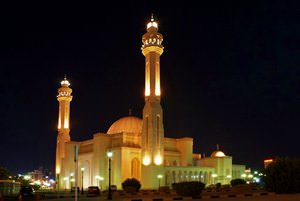 When translated from Arabian, Bahrain means «two seas». This island country has got its name because it is surrounded by sault water of the Persian Gulf, while ground hides rich sources of fresh water. The nature on these islands is magnificent and inimitable. According to a theory of some scientists, here has been located famous Eden garden that is mentioned in the Bible.
The national cuisine of Bahrain is truly distinctive and versatile. In addition to the traditional Arabic dishes, many of which are true delicacies, guests will be surely offered to try …
Open
Almost complete coastal line is devoted to building of resorts. Hotels and beaches are well-equipped here, so they attract more and more guests every day.
Main sights of the country can be found in its capital Manama. Here visitors can make an excursion to the old Portuguese fort which territory is now used for archeological excavations. One of the oldest Islamic buildings, Al Khamis Mosque, is located in the same region. The territory of Beit Al Qur'an complex is also worth visiting as here you will see an ancient mosque and walk through spacious halls of the library and visit the local museum.
The capital has multiple beautiful architectural buildings created in the traditional Arabian style. The most notable of them are Arad Fort, the church of St. Christopher and the main Exhibition Center. Copyright www.orangesmile.com
Despite the fact that Bahrain is considered quite a modern and a rapidly developing country, the locals do not cease to follow the cherished customs of their ancestors. They respectfully …
Open
When you're done with sightseeing, it's time to have some rest on one of spacious sand beaches or go to markets that are a traditional place of interest for all visitors. Gold Souk district is one of the most popular ones as here visitors will find wide selection of jewelry. If you want to find finest textile, then move your feet to Clos Souk market. Even though this country is not big, the choice of sights and walking routes is really high.
A lot of interesting modern attractions are present in the city, among which is the Clock Tower, located on the Exhibition Avenue. There are two towers; they have a pyramidal shape and are formed from the decorative stone. This clock tower is considered to be one of the most original and beautiful in the world, they are decorated with traditional ornaments, and in harmony with the surrounding landscape. 
Bahrain is a wonderful country notable for its numerous historical, religious and natural attractions. In order to see all the important places, you will need to spend here more than one …
Open
One of the favourite places for walks among the guests of the city is Fountain Square, located in the Al Seef district. This area is considered one of the most modern and prestigious in the city, it is possible to see a lot of modern skyscrapers, as well as visit the shopping and entertainment centres. The main decoration of the area is considered to be a large central square with a lot of beautiful fountains, next to which can be perfect to relax on a hot day. 
Not far from the Bahrain National Museum is another interesting attraction - Sculpture Park. It is a large area paved with beautiful slabs, on which there are some very interesting sculptures. All the works of art are very diverse and unusual; for guests' convenience and comfortable observation of the sculptures several benches have been place here. 
When it comes to describing the entertainments, which are offered in Bahrain, the first thing, which is definitely worth mentioning, is numerous colorful markets and shops. Bab Al Bahrain …
Open
In Manama those travelling with children should definitely visit the Dolphinarium, it is located in the Marina Garden Park. In this entertainment complex fascinating shows are held for visitors every day. Younger guests of the dolphinarium will have the opportunity to swim together with the amazing mammals, as well as take some memorable photos. 
One of the city's most desirable districts for exploring on foot is the Bab al-Bahrain. Here you can see a lot of beautiful buildings, built in the traditional style, as well as visit the dozens of souvenir shops and the largest market in the capital. It is here that experienced tourists come in search of memorable souvenirs. Beautiful hand-painted pottery, colourful textiles of local production, as well as spices and incredible works of art are sold in this market. In this district there is also one of the main symbols of the city - Bahrain Gate - a beautiful architectural structure in the form of an arch. It was built in 1945, today government agencies and offices are located in this unconventional house.
Sightseeing in Bahrain : things to see
When it comes to describing museums, the Museum of Pearl Diving might be the most famous one. The museum is located in an old historic building that once was the first official Court of Bahrain and later it was turned into a Traditional Heritage Center. After a long day of sightseeing, move to Corniche al-Fateh – a beautiful promenade with breath-taking views of the skyscrapers and airplanes landing to the city's airport. …
Open