Empire Grill definitely stands out among restaurants of the national cuisine in the city. This restaurant is located in a modern skyscraper. The cozy restaurant the hall of which is decorated in art deco style is located on the 35th floor of the skyscraper, so its visitors have an excellent opportunity to admire the panorama of the city while enjoying their meal. Fans of seafood will surely appreciate the menu of TGI Friday's restaurant. This dining facility attracts a particularly large number of visitors on Friday as on this day guests of the restaurant are entertained by an enchanting entertainment program.
1. While walking around the city, travelers are recommended to monitor their belongings closely. Do not take large sums of money without any particular need. Pickpockets are one of the …
Open
Hazara restaurant dedicated to Asian cuisine is also a very unusual establishment. Among its specialties you will find many meat delicacies, but visitors are attracted to the restaurant not only because of its unique menu, but also because of the original decoration of interior. Even the uniform of waiters is stylized to ancient Asian costumes. Anatolia is usually considered the best restaurant in the city dedicated to Turkish cuisine. The restaurant's menu is regularly updated with new culinary delights and professional chefs of the restaurant are always aware of the latest trends in Turkish cooking.
Sweet-tooth visitors will surely love their rest in Daily Bread restaurant, the menu of which consists solely of various sweets. A huge selection of cakes, pastries, ice cream and sugary drinks lure not only children but also adults to this magnificent place. Visitors simply cannot resist the inviting aroma of this place. Domus restaurant dedicated to Italian cuisine has repeatedly won various honorable awards thanks to its superb menu and excellent service. It should be noted that Domus is the only restaurant in the city that offers visitors to try popular dishes from Mediterranean cuisine. Guests will enjoy reasonable prices of the restaurant and an interesting entertainment program will be a great addition to your favorite food. Copyright www.orangesmile.com
Jakarta restaurants are great for everyone who wants to try the most popular Indonesian food. As a rule, tourists enjoy trying a local dish called Beef Rendang that contains beef meat. The secret of this dish is in selecting the softest and most tender meat. The meat is then stewed on a slow fire with spices and vegetables, and then served with rice garnish. The ready dish looks like it is very simple to cook, but that is a mistake. It takes several hours to cook Beef Rendang. To make the meat truly tender, it must be cooked on slow fire. During the cooking process, coconut milk and many other spices are added to the dish.
Hero supermarket is very popular with budget tourists in Jakarta. All popular products are available in it at attractive prices. Only vegetables and fruits are a little more expensive than …
Open
Satay remains one of the most widespread foods in Jakarta. It contains meat and vegetables roasted on skewers. Satay can be made from chicken meat or from beef. The chicken variation is the cheapest one. The ready meat is always served with rice and vegetable garnish, as well as various sauces.
According to tourists, roasted rice is one of the most original local dishes. While people in the majority of countries eat boiled or steamed rice, chefs in Jakarta restaurants can make truly mouthwatering roasted rice within minutes. The rice is cooked in an ordinary frying pan. Such rice can come with various additions, starting from fresh vegetables and sausage to boiled eggs and seafood. Local people usually eat rice with wooden chopsticks, but foreign guests can be supplied with classic utensils.
Discovering the architecture of Jakarta from bird's eye view! Istiqlal Mosque, National Monument, Cathedral Jakarta, Museum Bank Indonesia, Gelora Bung Karno Stadium, all those monuments are defining the image of Jakarta …
Open
Fans of original salads will not regret if they order Gado-Gado salad in one of restaurants or cafes of Jakarta. This is an eye-catching salad with stylish serving. It contains cabbage, kale, bean sprouts, roasted tofu cheese, and boiled eggs. Gado-Gado has a secret ingredient – a special peanut sauce. The salad is usually served with rice bread.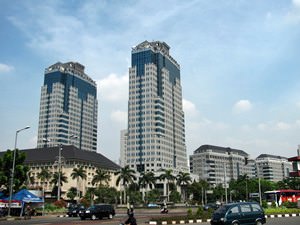 Some dishes of regional cuisine may look completely exotic and unusual to unprepared foreign guests. Oxtail soup is one of such dishes. As it is clear from the name this soup is made of oxtails. The incredibly delicious and nourishing broth is then mixed with potatoes, tomatoes, and other seasonal vegetables. In the past, the original soup was exclusively a festive dish, but modern restaurants in Jakarta have Oxtail soup in their regular menus.