Hero supermarket is very popular with budget tourists in Jakarta. All popular products are available in it at attractive prices. Only vegetables and fruits are a little more expensive than in local markets. The supermarket is really large and is interesting for strolls. It has sections with souvenir products, electronics, books, perfumery and even jewelry. They sell numerous ready-made dishes and fresh pastries, which also attracts tourists.
Discovering the architecture of Jakarta from bird's eye view! Istiqlal Mosque, National Monument, Cathedral Jakarta, Museum Bank Indonesia, Gelora Bung Karno Stadium, all those monuments are defining the image of Jakarta …
Open
On the crossing of Pasar Senen and Kramat Bunder streets there is an excellent clothing market where clothes and shoes can be purchased at the most attractive prices. To tell the truth, it scares the tourists with large quantities of garbage, which local sellers don't rush to clean after a day's work. However, there is no need to be frightened of the huge number of empty boxes and paper, since this market offers really an excellent choice of clothes at incredibly attractive prices. Quality T-shirts made of natural cotton will cost less than a dollar, women can choose excellent summer sandals for just 3 dollars. Here, you'll find clothes for all occasions, you can even buy an elegant men's suit that will cost no more than $ 15.
Those who prefer to shop in a less chaotic environment, should visit Matahari store. There're a few of them in the city. Matahari stores offer a wide choice of clothes for all members of the family. Customers will be pleased not only with clothing but with inexpensive accessories from local manufacturers. Colorful scarfs, belts, and handbags, ladies jewelry or a new purse - it is really difficult to leave these stores without buying anything. Copyright www.orangesmile.com
Jakarta is famous for large choice of wonderful places, entertaining and cultural facilities. Many travellers visit Jakarta only when transferring from one destination to another, but this …
Open
You may continue to choose new wardrobe items at Nyafa factory. It offers visitors a pretty high-quality forgery of world famous brands and truly attractive prices, as well. Fans of D&G and Armani brands will definitely like it here. The level of prices for clothing and accessories starts at $ 0.25. Qualitative and attractive men's shirts cost about 50 cents, for a similar price ladies will be able to choose beautiful dresses and blouses.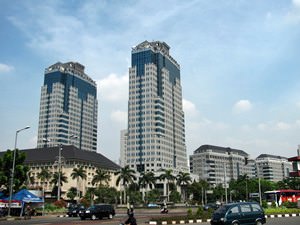 A good choice of original souvenirs is available to customers in Usaha Bary store. Here, besides classic magnets and T-shirts with national symbols, you can buy a lot of unique things. Men will surely appreciate clothes of local military men and sports cups, and ladies will be able to pick up handmade jewelry, colorful handbags and various decorations for the house.
Jakarta is famous for its variety of entertainment centers, which attract tourists with children to this Indonesian city. For young children, the entertainment center Kidzania will be an …
Open
The most popular shopping center in Jakarta is Plaza Atrium. It is a six-storey complex with a sublevel. Here, are presented clothing and footwear stores of various specialization, sports and jewelry shops. One of the city's best sports supermarkets is located underground. it will please consumers with affordable prices. Everywhere are found small food stalls where they sell popular street food and fresh juices. Local jewelry salons will please any woman. Yet, there are more than ten restaurants on the territory of the shopping center.
Multi-brand Senayan City store invites to stores of well-known European and American brands. A fairly large N.Y.L.A. pavilion is among them. Here, you can choose quality clothes and accessories at a price much more attractive than in many other countries.
Empire Grill definitely stands out among restaurants of the national cuisine in the city. This restaurant is located in a modern skyscraper. The cozy restaurant the hall of which is …
Open
Lovers of jewelry should definitely stroll along Kemang Raya Street. There are excellent pavilions that offer silver jewelry with precious stones and pearls. Virtually all jewelry in such stores are made by author's sketches and are unique. Despite the affordable price level, all items are of high quality. Jewelry with pearls is especially popular with tourists.