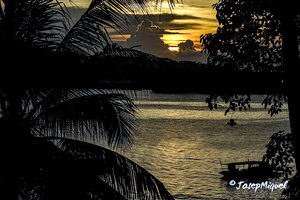 A choice of hotels on Sulawesi is just perfect, as there are accommodation places of different categories. One of the most prestigious hotels on the island, Aryaduta, can be found in Makassar. It will pleasantly surprise its guests by a combination of affordable prices and high quality of service. The hotel is in close proximity to the beach and is merged with a first-class fitness center. The place features original decor fully reflecting the culture of local people and lies in harmony with modern fashion trends. This upscale hotel is suitable not only for fans of beach holidays, but also for business travelers who would enjoy a great business center.
Sintesa Peninsula stands out among upscale hotels of Manado; this lodge is sure to impress connoisseurs of luxury and modern style. Spacious rooms with panoramic windows from floor to ceiling are fitted with large comfortable beds and have equipped worktop. Those fond of active lifestyle would enjoy lots of pleasant surprises; they will be able to visit the upscale fitness center, relax by the pool or go to one of the nearby beaches. Sintesa Peninsula also offers excellent conditions not only for recreation, but also for business. Copyright www.orangesmile.com
Siladen resort in Bunaken is attractive in all respects. The hotel offers a private beach, and its territory is a real piece of landscape art. Guests of the hotel complex live in cozy villas with thatched roofs designed in accordance with national traditions. The hotel has a first class diving center, as well as the gorgeous swimming pool with waterfalls surrounded by dense tropical thickets.
If you like exotic things, visit the Torajaland. Here you will see the surprisingly shaped houses of the local people, which were built, using the same technologies, their ancestors had, and …
Open
Aston Hotel in Makassar differs with well-developed infrastructure. The place occupies a spectacular high-rise building with a glass facade; its rooms and public areas are designed in ultra-modern style. Everywhere you can see amazing designer furniture and rich fabrics; exquisite decor is complemented by elaborate lighting system. This stylish hotel offers a fitness center and day spa, and a restaurant specializing in international cuisine.
Travelers who are fond of elite sport will be attracted by Novotel located in Manado. That's a single complex with a first-class golf center that provides a wide range of services for business guests too. The hotel has a delightful restaurant Square that is a permanent venue for the famous TV shows and gastronomic events. Gourmets and budget travelers will certainly appreciate the fact that the restaurant serves in buffet-style.
When you come to Sulawesi, don't miss the opportunity to dive at least once. There are uniquely beautiful reefs all along the 6 thousand kilometers of the shore, which make diving here …
Open
There are also attractive historic hotels, one of which is situated next to Losar Beach. We are talking about M-Regency occupying the spectacular Victorian building. Decorated in aristocratic style and complemented with bright accessories, this luxury hotel is very popular among shoppers, as it's close to famous shopping centers, including Sumba Opu mall.