The Makati, Nakpil and Pasay Road Streets concentrate the most attracting entertaining establishments and shops. The life is buzzing there day and night. At nightfall the streets are illuminated with bright neon signs and the air gets filled with music played in cheerful bars and clubs. The bars are of the same attraction among tourists as night clubs are. The most popular establishments among them are Caf e Vogue, Orchid Bar, Lobby Lounge and Top of the Century. The bars are often holding exciting parties and entertaining programs accompanied with live music and added with house specialities.
Among the upscale establishments of the city the Café Bola restaurant is best worth noticing. Its culinary experts and chef create most wanted and most ordered dishes of Philippine cuisine …
Open
Travelers seeking for a quieter and more amiable atmosphere will love the San Mig pub. It is an established place of meeting of big companies. The pub is most in demand not only among city visitors but among local folks as well. Manila also offers great entertaining and challenging facilities for gamblers. The most popular gambling center is considered to be the Filipino Pavilion casino. The casino operates 24/7 and offers its guests several halls with various games played. The same attractive gambling establishment is the Filipino Heritage casino available for visiting and gambling each day.
Eager clubbers can not leave out of sight the In the Mood entertaining center. The establishment holds scale dance sessions, parties and presentations 6 days per week. The club is known far beyond the boundaries of the resort. The Infinity club will treat its residents not only with interesting and engaging entertaining program but with plenty of dishes and specialities as well. Its territory features excellent bar. Among other night entertaining establishments the Verve Room is worth noticing. Copyright www.orangesmile.com
Travelers visiting Manila for holiday for the first time should take into consideration some nation specific features. This will help to easily set contacts with local people and feel …
Open
Manila features a great variety of upscale shopping centers. The most renowned one is considered to be Rustans. In numerous stores and departments one can hunt brand clothes and perfumes. There one will find several jewelry shops and designer boutiques as well. Prudent tourists will love the Shoemart, Landmark and Robinsons shopping malls as these offers a huge selection of goods fitting any budget and taste. The vast choice of souvenirs, clothes and home decorations and appliances are sold at the Divisoria market. Bargaining is a good practice with local merchants. All the visitors of the place get an excellent chance to buy unique handmade crafts at the most competitive pricing in the city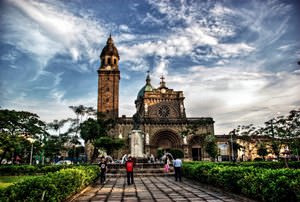 The traditional noble game golf plays an important role in the capital of the Philippines. Club Intramuros Golf Course is considered to be the best platform for the game. It is conveniently located in the coastal area and at the same time in a picturesque location, so the Golf centre is a great place to cheer up. Chinese Garden is a perfect place where you should definitely walk. The best Spa in the capital of the Philippines is I'm Onsen Spa, where visitors will get all the amenities that they want to see in centres of this kind. Here you can have carefree time, "washing away" all the negative emotions. If the service of this Spa doesn't satisfice you, then be sure to go to another, no less interesting place-M Bay Health Spa.
Among numerous landmarks and sights of Manila the Malacanan Palace is in the focus of attention of tourists. The age of the magnificent palace is about two hundred years. Since the first …
Open
Escape quests are great for outdoor activities, and the best club of this kind in Manila is Mystery Manila, located in several areas of the city. Its visitors can choose rooms with mystical, spy and scientific themes, each visitor will be satisfied with a wide choice of various plots and authentically stylized rooms. Those tourists who love karting will not be bored when visiting Manila, there is a club City Kart Racing Circuit Makati for them, and those who want to skate will enjoy their favourite activity in SM Skating Rink — and they can visit it not only in winter but all year round.
Ace Water Spa is perfect for both active and peaceful pastime. There are several pools for every taste and age (including a swimming pool with a playground), thermal zones, as well as relaxation rooms and a local cafe with excellent cuisine. Those who want to spend time actively playing at the virtual reality station should pay attention to a nice complex called VR + PH that is located in the capital of the Philippines, here you can discover a new wonderful world. Those who come to Manila with their family or friends are recommended to go to LaserXtreme to spend time with loved ones and to increase the level of trust between the participants of the game.
1. Raining season in Manila is considered to be from June till October. During the season travelers are advised to be backed up with umbrellas as it may start raining out of a sudden. The …
Open
For those who want to watch sports matches, it is worth advising to go to Philsports Complex, where competitions in different sports are held. In addition, a field is a great place for cycling or sports. In Formerly Film Cente it is worthy to see one of the stunning shows that represent the culture of the Philippines in all its glory, this is a great place to immerse in its culture and understand it better. Beautiful theatrical performances are held in another place — Imax Theatre, which is located in the shopping mall called Mall Of Asia.
There are a lot of places for family entertainment in Manila. One of these is Seri Fantasy World, 3D-figures which shake the imagination of not only children but also adults. In addition, there are numerous attractions for young tourists, it also impresses visitors with an unusual design. Those who love to take pictures will be happy to come here. The theme park Star City with a huge number of attractions will definitely amaze you— both extreme, which will appeal to adults, and designed for young visitors attractions won't leave you indifferent. Another great entertainment centre for the whole family is DreamPlay by DreamWorks, where young tourists can have plenty of fun, and not least great experiences are provided by their favourite characters and the shows that are arranged here.
For those who want to take a walk, there is no better place than Manila Bay. Especially if you visit the promenade in the evening when the eye opens a fantastic sunset. Paco Park is also a great place for a walk. The park will also appeal to those who are keen on history and architecture-it is associated with many interesting events, and sculptures located on its territory give charm to the area. For those who like to arrange a picnic, it is worth advising to visit Ninoy Aquino Parks and Wildlife Center with its green spaces, gazebos, picturesque lake and a peaceful atmosphere. A mini zoo with several species of birds can be found on its site.
Attractions and entertainment in Philippines
You can go snorkeling near Moalboal in Cebu. The opportunity to swim next to a huge flock of sardines or even swim through it is a distinctive feature of diving here. In addition, you can find at least two species of shark in these waters. This is a hammerhead shark and a whale shark. A special type of entertainment is offered in the village of Oslob. This is swimming with whale sharks. These fish can reach 20 meters in length. They are the largest in the world. They feed on plankton. These sharks are not dangerous to humans despite their terrifying size. Sharks are lured with food from boats. Tourists in masks and swimming vests swim between them at this time. It is forbidden to touch animals. Early morning is the best time for swimming. There are few tourists, and the sea is calm at this time. …
Open