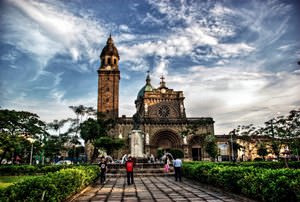 Manila is a great place for family holidays. The resort attracts tourists with children of various ages. The entertainment center Seri Fantasy World is oriented towards travelers with young children. Kids will definitely not be bored here as there are many interesting attractions and interactive expositions for them in the center. You can also take 3D-pictures in the center. Many visitors come to this entertainment center specifically to make extraordinary family photos.
Among the upscale establishments of the city the Café Bola restaurant is best worth noticing. Its culinary experts and chef create most wanted and most ordered dishes of Philippine cuisine …
Open
Another popular children's attraction is the Manila Ocean Park – a beautiful modern aquarium with a large collection of marine inhabitants. In this oceanarium, there are a lot of colorful fishes and also aquariums with eels and sea rays. Interesting films about the underwater world are also shown in the center daily. There is a small natural science museum on the territory of the park where you can see stuffed animals and birds.
Those who love animals and nature enthusiasts should definitely visit the local zoo – Manila Zoo. This zoo is quite small, but very well maintained and pleasant for walking. In the zoo, visitors can see majestic elephants, tigers and the most dangerous snakes. There is also an aviary with rabbits that children can feed. There are goatlings walking freely along the territory of the zoo which are also very popular among children. Young visitors will also have the opportunity to ride along the territory of the zoo on a pony. Copyright www.orangesmile.com
Travelers visiting Manila for holiday for the first time should take into consideration some nation specific features. This will help to easily set contacts with local people and feel …
Open
You should definitely visit the park Pugad Adventure La Union Philippines with older children. This is a large and incredibly beautiful adventure park that is adorned by hundreds of exotic plants and flowers. On the territory of this park, a small zoo is outfitted for vacationers. Here you can see predatory animals and take pictures with a large python. There is also a small water park with a special pool and slides for children in the park. You can have fun and an interesting entertainment in this park all day long.
The most popular children's museum of Manila – Yexel's Toy Museum, is located in a unique colorful building. This is a very interesting toy museum where you can make good photos. It is distinguished from other museums by a variety of spectacular thematic installations. In this museum, visitors can take a picture with their favorite cartoon and film characters, and make spectacular photos in the "Star Wars" and "The Lord of the Rings" theme.
Among numerous landmarks and sights of Manila the Malacanan Palace is in the focus of attention of tourists. The age of the magnificent palace is about two hundred years. Since the first …
Open
In Manila, there are many beautiful parks and gardens along which it will be pleasant to take walks with children. One of the most picturesque is the Chinese Garden – a small corner of China on the island of Luzon. Several traditional Chinese pagodas have been built in this park. The park is also adorned with many water reservoirs in which birds live. Children will have an opportunity to run along the spacious paths of the park. Some travelers come here especially to feed the birds and relax in silence.
San Diego Gardens is an equally attractive place to have an outdoors entertainment with children. This garden is quite large and has a variety of exotic plants. On the territory of the garden, there is a large collection of bonsai plants. There are information plagues next to some plants. The garden is also noteworthy because there are several historical buildings on its territory. The study of these buildings will possibly make a pleasant variety to the vacation. There are many fountains and equipped squares in the garden for holding ceremonial events. This is only a small part of the interesting entertainment that the charming Manila is ready to offer to travelers with children.
Things to visit with your kids in Philippines
There are many different amusement parks in the Philippines. You can have fun with the kids there. Enchanted Kingdom is located in Santa Rosa, Laguna. The theme park with many attractions is divided into seven zones by theme. The Victorian Park is styled after the Victorian era. Bedrock is inspired by the Flintstones. Brooklyn is stylized as New York of the 40s of the last century. It exploits the theme of silent movies. Dinosaur Island impresses with its reconstructions of prehistoric animals. It is located in Tuba, Benguet. Life-size dinosaurs are equipped with motion sensors. They move and growl like living dinosaurs. There is a similar park in Angeles. Pasig Rainforest Park includes 4 swimming pools (two for adults and two for children), a skate park, a picnic area, an obstacle course, a zoo, a botanical garden, and a lagoon. You can take a boat ride there. Ocean Adventure in Bataan is a theme park on the water. You can watch sea animals there. …
Open