Shenzhen is an ideal destination for active travelers. Thanks to the variety of amusement parks, shopping malls, wonderful gardens and park areas, each and every tourist can choose a suitable place to relax and have fun. Nature enthusiasts should not ignore Shenzhen Safari Park. This large-scale zoo inhabited by representatives of African fauna is well-equipped and really beautiful. You can travel around the park only by a special car; the situation in Safari Park is so realistic that it creates a feeling of a true trip through the African savannahs.
The choice of luxury hotels is incredibly wide in Shenzhen, so even experienced tourists can get confused in their diversity. One of the most prestigious hotels is Grand Mercure Oriental …
Open
The center of attraction for thousands of tourists is Happy Valley Amusement Park. Occupying the area of 86 hectares, the large park is conditionally divided into nine thematic zones. The choice of rides presented in the park is really huge. Here you can explore a large water park with well-maintained recreation areas, many slides, and pools. Travelers for whom local attractions and slides are not enough should think about visiting OCT East Shenzhen entertainment and resort complex. In addition to original rides and exciting viewing platforms, its territory is full of many natural attractions. Colorful fields with flowers, beautiful waterfalls, pavilions housing fountains and rare plants - you can stroll around the park exploring its beauty all day long.
Sports fans will not be bored either, as there is a decent choice of sports complexes in the city and its surroundings. Mission Hills Golf Club stands out among many local golf centers. It will pleasantly surprise customers not only with its high-quality playgrounds but also with well-kept recreation areas, as well as affordable prices. A worthy competitor of the sports club is Juhao Golf located in a very picturesque area. Copyright www.orangesmile.com
Shenzhen is located in the south of China, near Hong Kong. It is one of the most densely populated cities in the country. The population of the modern metropolis is more than 10 million …
Open
Getting back to amazing natural beauties of Shenzhen, we cannot fail to mention Xianhu Botanical Garden. This wonderful botanical garden occupying a vast area is divided into quite original thematic zones, which makes it particularly popular. Here you can find a beautiful park with walking paths, original pavilions decorated with sculptures and fountains, and even a small greenhouse with flowering cacti. The garden also has a specially-equipped picnic area, which is in great demand among visitors. Those preferring to spend time outdoors will be fascinating by Lychee Park. It wouldn't be easy to find more peaceful and beautiful place for leisurely walks in the city.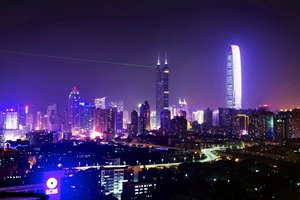 One of the main advantages of Shenzhen is a huge selection of shopping malls, so your vacation would be incomplete without doing shopping. First of all, be sure to explore Coastal City shopping complex. Besides attractive shopping pavilions, in the center, there is an excellent cinema and several cozy cafes. In front of the building is a beautiful square with benches and landscape decorations. Yitian holiday Plaza is also ready to offer visitors all the conditions for organizing interesting leisure. Among its attractive features are hundreds of fashion boutiques, as well as a great ice rink. KK Mall is an original mix of a variety of shops and incredibly attractive restaurants. It is equally appreciated by both shoppers and gourmets. One of the most popular nightlife facilities is Lili Marleen Club occupying an impressive building and featuring a stylish interior design.