Seoul is an amazing city with centuries' old history. It is the most populated city and the capital of South Korea. According to historical records, a large town on the site of modern Seoul existed already in the 4th century BC. At that time, it was called Wiryeseong. Subsequently, the city became the capital of Baekje. As it had an advantageous strategic location, the city has kept its important status for millennia. Seoul got its current name in 1948. It was proclaimed the capital of South Korea, which finally achieved its independence. Currently, the population of the city is nearly 10 million people. Modern Seoul is full of contrasts and amazing features.
Upscale and luxurious hotels make up a significant part of the hospitality infrastructure in Seoul. Each of them offers interesting services and excellent service in order to attract new …
Open
It is a large and vibrant city with incredibly amazing modern architecture that is in a striking contrast with wonderful historic monuments. Locals are proud of their traditions and culture. In Seoul, there is a huge number of interesting art centers. Travelers, who wish to learn more about the cultural heritage of the indigenous population, should definitely visit Hakgochzhe, which is a permanent venue for interesting folk events and exhibitions.
A stroll on the scenic market of Hvanhak-dong is a great way to get acquainted with the unique atmosphere of the city and dynamic life of its people. This flea market is the largest in the city - there are more than 500 stalls that sell all kinds of goods. Many tourists visit that place to find priceless antique treasures and rare works of art, and others look for the unique atmosphere of national color. While walking through colorful rows of stalls, tourists will see magnificent Buddhist statues and paintings with national motifs, unusual furniture and antiques, and many other priceless pieces of history. Copyright www.orangesmile.com
If you like shopping, then you will definitely like Seoul. If you plan to visit all the local markets, outlets, and shopping centers, you will have to spend at least a month here. This is …
Open
Adherents of gastronomic tourism also find Seoul very interesting. The choice of restaurants and cafes is simply amazing. Quite an interesting fact - each district of the city has its own unique "gastronomic specialty". Travelers, who want to try the best "tteokbokki" in the city (rice cakes with a special sauce made of hot pepper), should go to the Sindandon
district as local cafes are famous for cooking this dish the best. Fans of meat delicacies will definitely like the national "Jokbal" dish (specially cooked pig's feet). Chefs in the Chanchhundon
quarter prepare this meat delicacy in the best way. In Seoul, there are several major gastronomic streets that have the highest concentration of the most popular restaurants. On Sam Jong Dong Street, tourists can find dining venues that offer different cuisines of the world.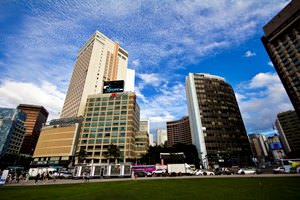 Charming Seoul offers excellent infrastructure for travelers with different hobbies. Visitors who are fond of excursions, shopping, and gastronomic tours will not be bored there. The modern city is a great destination even for tourists with children. Among its attractive features, it is important to mention a great number of entertainment and theme parks. Lotte World
is widely recognized as one of the largest amusement parks in the world. Beautiful temples with centuries-old history and modern skyscrapers, fabulously marvelous parks and lively shopping streets, countless cozy restaurants and souvenir shops – these are the main features of modern Seoul, which attracts millions of foreign guests every year.
Seoul is an ideal place for families with children. There is everything that a child can wish for here. The variety of entertainment is very large - from amusement parks with attractions for …
Open
Seoul is located not far from the Yellow Sea famous for its beautiful flat beaches that traditionally attract numerous tourists with children. It will take approximately an hour by car to reach these gorgeous beaches from the capital. In summer, there are always many vacationers at the seaside. Coastal areas of the Yellow Sea have long become an interesting excursion destination. Many travelers try to visit local beaches during the low tide. During this period, a several meter long strip of the bottom becomes unleashed, and it is possible to see various shellfish and mussels. Beaches of the Yellow Sea have a well-developed infrastructure that includes numerous cafes and beach gear rental offices. They are very comfortable, so no wonder why many tourists spend whole days there.
Vacationers seeking the atmosphere of complete solitude and privacy should visit Sindo Island. Constant ferry service connects the island with the coast. Sindo is famous for its beautiful and not crowded beaches. Fans of wellness and healing practices will find it very interesting to visit Seoul's acupuncture and phytotherapy centers that are recognized among the best in the world. These centers offer rare healing practices that involve natural components.
Sightseeing in South Korea: things to see
In the vicinity of Seoul there is a large international airport Incheon, which receives flights from various European and Eastern countries. In addition, you can get to South Korea from a number of countries by sea. It is connected by ferry communication with Russia (Vladivostok), Japan and China. In most of the year periods, ferries are operating at least five times a week. The modern high-speed train network is conveniently connecting major cities within South Korea peninsula. …
Open