If you like shopping, then you will definitely like Seoul. If you plan to visit all the local markets, outlets, and shopping centers, you will have to spend at least a month here. This is due to the fact that there are a lot of shops in the city and its surroundings. It is better to exchange some money for Korean won. The card will not be accepted in markets or small stores. However, there are no problems with cashless payments in shopping centers and large boutiques. So you do not have to go with a bundle of banknotes, even if you are planning a very large spending. It is better to choose the time from 10-11 am to 7 pm for shopping. All stores are open at this time. However, large shopping centers often are opened around the clock. Small stores usually don't close until 10 pm in the hope of attracting customers.
Seoul is an amazing city with centuries' old history. It is the most populated city and the capital of South Korea. According to historical records, a large town on the site of modern …
Open
Sales are held here on a schedule similar to the European one. Seoul Summer Sale takes place in July and August. Only foreign tourists can take part in it. You need to issue a special card for this. It is issued at the airport or at the tourist counters of shopping centers. If you're lucky, you can find a good item for just 30% of its real cost. You can participate in the Korea Grand Sale using the same scheme in winter. You can print a card for this sale from the event's official website.
Prices are quite European in local clothing stores. The range is very large here. However, it has its own features. The silhouette is often fitted. Also, there are a lot of cartoon motifs and jewelry. Local manufacturers do not skimp on the quality of the fabric. You can buy a unique design item at an average market price here. However, note that the sizes are specified in different metric systems here. For example, the size of shoes is always written in millimeters here. The size of the waistline is measured in inches. You should print out the matching table in advance so that you don't try to guess the size. Copyright www.orangesmile.com
Seoul is an ideal place for families with children. There is everything that a child can wish for here. The variety of entertainment is very large - from amusement parks with attractions for …
Open
Things from Ader Error, Document, Eye Eye, Thisisneverthat, Diagonal, Kye, and Hyein Seo are interesting. You can find them at any local shopping center. You can buy quality leather shoes, bags, and purses on the market. They are high-quality but without refinements. Fans of authentic things should look for a traditional hanbok costume.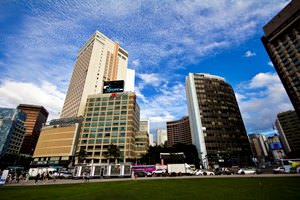 Local cosmetics are also of high quality. It always includes only high-quality natural ingredients. Snail moisturizer, masks, peels – all this works regardless of the price. You should pay attention to the products of Mizon, Scinic, Erborian, Tony Moly, and Missha. This is the easiest way to buy them in multi-brand stores like Dream Store. It is worth noting that you have the opportunity to mix on your own base with the necessary additives in individual proportions here.
The first thing to note is that Koreans do not eat dog meat for breakfast, lunch, and dinner. Moreover, the modern generation has never tasted these animals. The last market that sold such …
Open
High-tech fans will also love Seoul. The quality of local gadgets is high. Prices for many of them are slightly lower than the average in Europe, especially for Japanese or Chinese models. However, you should keep in mind that some smartphones may not work well with mobile networks outside of Korea. You should look for computers, hard drives, players, and accessories in Yongsan Electronics Market.
You should pay attention to local teas and tea collections from drinks. ChakSolCha will appeal to fans of the classics. Hyeonmi-cha from rice or barley grains is also interesting. Yuja-cha with the addition of citrus and Oksusu-cha with corn are noteworthy. Local beer, rice vodka 20% strength and rice wine are interesting from alcohol. You should also pay attention to herbal and fruit tinctures. Seoul chocolate with pepper, ginseng, and cactus, as well as juice lollipops are interesting. A pickled silkworm pupa is a specific delicacy. You should buy tea or candy with ginseng.
You may be surprised to notice that almost all the Koreans around you are very light-skinned in Seoul, even in the height of summer. The secret is simple – a tan is considered a sign of …
Open
It is worth noting that the markets of Seoul are entire quarters. Traditional stalls are alternated to boutiques and shopping centers here. Myeong-dong is the city's most popular shopping district. You can find absolutely everything you want here. You should take at least a whole day to visit this place. You should go to Itaewon for European goods. Almost all of the sellers speak good English here. Dongdaemun Market is moving smoothly into the cheap and very authentic Namdaemun. This is the easiest way to find traditional Korean products like all sorts of boxes with inlaid mother of pearl or porcelain sets here.
If you are interested in luxury, then you should go to Apgujeong-dong. The world of chic, glamour, and expensive restaurants is waiting for rich tourists here. Galleria shopping complex is also located here. If you want cheaper shopping, look for COEX, Doosan Tower, Migliore, and Shinsegae department store. If you are interested in outlets, you can visit a large Yeoju Premium, elite Paju Premium or Marino Outlet. Karak market is most suitable for buying food products. The most important thing is not to get lost there.
Shopping in South Korea
Stamps with different symbols are very popular in South Korea. Tourists can order their personal stamps with their family name, first name, or symbol. The choice of wooden tableware is striking, so it is easy to make a beautiful set of different bowls, chopsticks, plates, spoons, ladles, and many other items. Ceramic tableware is also popular and widespread. Some souvenir shops sell music CDs and t-shirts with images of popular Korean idols. In order not to miss anything interesting, visit a map of the neighborhood with the list of all shops in one of the tourist centers. …
Open