Kuala Lumpur is a cosmopolitan city; its culture is interesting and many-sided. During the year, locals celebrate a lot of interesting festivals, which include both European and Muslim, Buddhist and Hindu celebrations. Among European holidays the most prominent are colorful New Year and Christian Easter. However, supporters of Muslim ignore those holidays; the most important event for them is celebration of Prophet Muhammad's birthday. On this day Koran is read in all mosques. There are no noisy and colorful celebration activities. It is customary to celebrate it within family circle and spend the day in prayer.
According to one of them, during the war with Mongols, locals passed secret messages to each other in cakes. Little notes were wrapped in dough; flatbreads served as reliable protection from prying eyes. Since then, every year locals bake smart round cakes, which are very similar to the full moon, and treat their loved ones. Copyright www.orangesmile.com
Kuala Lumpur is famous for its cutting-edge shopping centers, and the largest one is Suria KLCC. This mall occupies the world-famous Petronas Twin Towers, more than 400 stores of world …
Open
No less interesting is the origin of the Lantern Festival. According to an old legend, the fearsome dragon has decided to deprive the light from the people. Upon learning of his plans, residents have made a lot of lanterns and, when darkness came, moved with them to streets. Dragon wasn't able to select which lantern to start with, and died of vexation. A good tradition to make colorful lanterns has kept for many centuries. There are always solemn parades and entertainment in Kuala Lumpur in this festive day. It ends with a large-scale festival procession in which each participant has to pick the lantern with him.
In September capital welcomes the Festival of Malaysia, which is considered the longest-running and most colorful holiday. It usually takes at least two weeks; residents from all the states of the country participate in the celebration. The festival includes a variety of events, from concerts and traditional children performances to the exciting culinary and sports competitions. No less interesting is the Flower festival, which usually takes place in July. For several days, the city turns into a huge fragrant garden.
Discovering the architecture of Kuala Lumpur from bird's eye view! Kuala Lumpur Tower, Stadium Negara, Railway Station, Aquaria KLCC, Maybank Tower, all those monuments are defining the image of Kuala Lumpur …
Open
The beginning of March in Kuala Lumpur is marked by another interesting event - the Hot Air Balloon Fiesta when the sky is painted in different colors, presenting a magnificent sight to all who are fortunate enough to see such beauty. At this time, the best teams from more than ten countries of the world demonstrate their skills in releasing balloons into the air. All this happens in the city center, in Desa ParkCity, thanks to which watching the colorful show can be combined with zorbing, indoor mountaineering, dancing, archery, racing, listening to music and tasting local food. You can see balloons of any kind - not only standard aircraft but also original ones - for example, themed on characters from Star Wars, Monster Corporations or Angry Birds.
Good Vibes Festival is another great event that takes place in the vicinity of the Malaysian capital, in the town of Gohtong Jaya. This happens in early spring. The event is devoted to the music of different genres so here you can hear indie rock, electronic music or R'n'B. The festival gathers hundreds of performers and visitors from all over the world, there are always familiar names among its headliners. Given that the mountain town of Gohtong Jaya is incredibly picturesque, it is also a great opportunity to enjoy the beauty of Malaysian natural sights. Throughout July, a delightful aroma of fresh flowers hovers in Kuala Lumpur - the thing is that the Flora Fest is taking place at this time. You can visit it to enjoy photo exhibitions and workshops, as well as parades and floral design competitions.
Petronas Twin Towers, Sultan Abdul Samad Building, National Museum Kuala Lumpur, Bukit Jalil National Stadium, as well as many others, they all become the world's cultural heritage objects and remain as iconic monuments for Kuala Lumpur …
Open
Since the capital of Malaysia is visited by many tourists from China, and among the locals, there are many ethnic Chinese, two most important holidays - Chinese New Year and the Mid-Autumn Festival - are celebrated for them here. The first event usually falls on February and lasts for two days, during which Petaling Street in Chinatown changes miraculously: everywhere there are grandiose celebrations, houses are hung with paper cherry flowers and red lamps. The holiday is never complete without theatrical performances and colorful parades headed by the symbol of China - the dragon. Well, traditional "moon cakes" are baked specially for the Mid-Autumn Festival. All Chinese people prepare this bakery product at home at this time. Restaurants, hotels, and cafes keep up with them, preparing their own cakes with original flavors.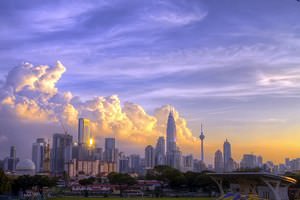 Kuala Lumpur is also home to many Indians for whom the main holiday is Thaipusam. It is usually held in February and can be a little incomprehensible for Europeans, but it still shows a multi-faceted Indian culture. The event is also known as the "Feast of Sacrifice" since hundreds of Indians carry the "Kavadis" with gifts for the god of war Murugan on their shoulders. Some believers pierce their face with knitting needles, set themselves on fire or hang on hooks. However, not a single drop of blood should appear on their bodies if they kept a fast properly before the holiday. The pilgrims' final destination is the Sri Mahamariamman Temple. In total, participants of the ceremony overcome fifteen kilometers.
National traditions of Malaysia

All Malaysians are equal. But some of them have more rights than responsibilities. Malaysia is ethnically diverse. Belonging to a particular ethnic group has advantages and disadvantages. For example, freedom of religion is proclaimed in the country. But ethnic Malays do not have this freedom. Almost a third of the land in the country has the status of a reserve. These lands can only belong to indigenous people. Other ethnic groups that want to live in these areas must rent housing. This is due to the fact that they cannot own houses on the right of private property. …
Open