Kuala Lumpur is a city in Malaysia that is located on the south-east of Malay Peninsula in a beautiful valley surrounded by mountains. Kuala Lumpur is an ultramodern megalopolis, a large Asian industrial and cultural center that has got its modern look within just 10 years. The city organically combines technologies of Western countries and mysterious East.
Kuala Lumpur is famous for its cutting-edge shopping centers, and the largest one is Suria KLCC. This mall occupies the world-famous Petronas Twin Towers, more than 400 stores of world …
Open
Kuala Lumpur features tropical climate. The average yearly temperature of air here estimates +27C with relative humidity of 96%. It rains often in Kuala Lumpur.
If someone thinks the city looks more like a desert, he/she is wrong. Kuala Lumpur simply dives in greenery. Around twenty years ago best landscape designers have created projects of several green parks that have been laid out on banks of the picturesque lake. Today Garden of Orchids, Garden of Butterflies, Garden of Birds, and Garden of Deer are popular city's destinations for rest. In the Garden of Deer you can see a rare animal – mouse deer. It is approximately as big as a cat and lives exclusively in this part of South-East of Asia.
Another sight of Kuala Lumpur is Petronas Twin Towers - the tallest building in the world that is famous by its size and complexity of project. The look of the building has distinct Islamic traits. The complex consists of two towers that are connected by a bridge. The bridge is a wonderful observation area featuring stunning looks of the city. You can also visit Menara tower (421 meter high), Chinatown – a famous trading region, a national mosque Masjid Negara, historical architectural buildings – City's Council, Department of Information, Main Post Office, Sultan Abdul Samad Palace (nowadays Supreme Soviet), Dataran Merdeka and much more. Copyright www.orangesmile.com
Discovering the architecture of Kuala Lumpur from bird's eye view! Kuala Lumpur Tower, Stadium Negara, Railway Station, Aquaria KLCC, Maybank Tower, all those monuments are defining the image of Kuala Lumpur …
Open
The most interesting sites are the caves of Batu – ancient limestone caves, in which hundreds of years ago were temples. Next to these caves is one of the largest Buddha statues in the world. In these, places every year, the Festival of Thaipusam, which attracts a huge number of pilgrims, is held. The caves themselves are an outstanding natural attraction. They were formed more than 400 million years ago.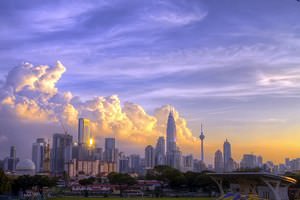 One of the most beautiful architectural monuments of the city is the royal palace. It was built in 1928 by one of the wealthy Chinese millionaires and until 1957, was privately owned. Subsequently, the building was bought by the government. It still remains the current residence of the monarch of Malaysia. The vast adjoining territory of the garden is decorated with landscape compositions. Many tourists come here to look at the guard, who is dressed in a luxurious form. A popular observation of tourists is the watching of the changing of the guard.
Petronas Twin Towers, Sultan Abdul Samad Building, National Museum Kuala Lumpur, Bukit Jalil National Stadium, as well as many others, they all become the world's cultural heritage objects and remain as iconic monuments for Kuala Lumpur …
Open
In Kuala-Lumpur, there is a magnificent botanical garden. It contains the rarest species of plants from around the world. The territory of the park is divided into several thematic zones, where you can admire not only exotic plants, but also amazing fauna. There are several museums and monuments on the territory of the park, and there is also a planetarium, which will be interesting to visit by the whole family.
One of the oldest buildings in the city is the Jamek Mosque. Absolutely everyone can visit this incredibly beautiful mosque and admire its interior decoration, regardless of religion. This mosque was eventually completed in 1909. Many elements of its internal and external design were preserved in their original form.
In Kuala Lumpur, the choice of entertainment for vacationers with children is simply unbelievable. The entertainment center Berjaya Time Square Theme Park enjoys great popularity among …
Open
There are many interesting museums in the city; among them is the Museum of Asian Art. In addition to traditional paintings and sculptures, there is a very interesting collection of ceramics. The age of many exhibits here is more than 200 years. The most multifaceted and extensive exhibit is the collection of the National Museum. Here you can see a variety of items of folk crafts, works of art, collections of old coins and weapons. The museum has a large collection of natural science exhibits. It will be interesting to visit with children.
Sightseeing in Malaysia: things to see

Taman Negara National Park remains the largest park in the country. Its total square exceeds 440 thousand hectares. These are true dense jungles, the age of which, according to biologists, exceeds 130 million years. Gunung Tahan Mountain is located right in the centre of the park. The mountain range has become the favourite place for numerous alpinists. Besides exotic plants, you will see various species of rare animals in this region. There are more than 250 species of birds, not to mention other animals. Gua Telinga Cave has become a true palace for thousands of bats. Walk through a narrow tunnel, and you will enter a spacious cave, which ceiling is completely covered with these night animals. …
Open