Children will surely like India from the minute they step into the country: there are so many friendly people in colorful clothes here, as well as plenty of fruits and tasty sweets. If you want to make the trip unforgettable, you should visit the museums of India with children, have fun in amusement parks, swim in the aqua park and enjoy the beautiful nature. In the city of Khopoli, there is a new park called "Adlabs Imagica", where you can ride more than forty amusements. You can have a ride in the ghost castle, try roller coasters and carousel. Besides here, you can visit the "Snow Park" with real snow, play snowballs and slide on a sled from the mountain. Later on, you can have a meal in a restaurant.
India's fragrant cuisine is known for its generous use of spices (ginger, chili pepper, and others) and vegetarian dishes. Most of the Indian …
Read further
"Della Adventure Park" in Lonavala has some entertainment for both children and adults: paintball, slinging, shooting bows and rifles, and billiards. You can also chat with horses and cows, ride motorcycles, go down the river in an inflatable ball, try on rodeo, cricket, and many other things. There is a café here, several bars and a vegetarian restaurant. The "Ramoji Film City" located in Hyderabad is not only a studio where movies are made but is also a place where you can see the whole process. There are lots of attractions here too, for example, you can play paintball and visit the bird park, Butterfly Park, and a Japanese park. "Kingdom of Dreams" is located in Delhi. It has a theater inside where musicals are staged. In the park, you can find an area with everything necessary for entertainment and cultural enrichment.
"Essel World and Water Kingdom" is an amusement park in Gorai with nearly 20 years of history. It is the first Park of its kind in India. There are not only lots of exciting amusements on its territory but also a whole aqua park with a lagoon, great slides for children, older children and adults, fountains, a zone for dancing under artificial rain, a wave pool and other amusing entertainment. "Worlds of Wonder" in Delhi is popular both among children and adults. This is also an amusement park with an aqua park. You can get a ticket here either to the amusement park, to the aqua park or to both parks. That of both parks is the most expensive option. Those who did not come with a swimsuit can rent one here. Copyright www.orangesmile.com
In India, people speak more than a hundred languages. Hindi is the most common language, followed by Bengali, Tamil, Urdu, and others. Many Indians …
Read further
Children who are interested in airplanes should be taken to visit the Naval Aviation Museum in Goa. In the open-air part of the museum, there are lots of manned and unmanned aircraft. A great part of Indian naval aviation is dedicated to these aircraft. You can find a cafe as well as visit a gift shop here, where you can buy mugs, t-shirts, pens, books, and models of some airplanes. Inside the museum, you can find different models of aircraft, inflatable rafts, lifebuoys, lots of pictures, parachutes and other exhibits. There is a small cinema where you can watch some educational films. The "Kidihou Children's Museum" in Hyderabad will give young experimenters the opportunity to participate in creating a robot. They can also paint with sand, try on the roles of sellers and buyers. There are lots of amusements here.
Guests of Ahmedabad who have children should not fail to visit the "Kalpana Mangaldas Children's Museum". Here you will find lots of festive masks, musical instruments, as well as an elephant's skeleton and other equally interesting exhibits. After this, you can visit the Ahmedabad Kite Museum. It has a huge collection of different kites from all around the world. Big and small, Asian and European, even mirror, are just a small part of the collection here. You need to be ready for the fact that after visiting the museum your child will ask you for his own kite. This is not surprising, because the exhibits are beautiful and they inspire the museum's visitors to buy or create their own kite.
In India, tourists will find such a large number of museums, temples, and historical sites that it is impossible to visit everything during one stay …
Read further
One of the most interesting museums for children in India is situated in Delhi. Actually, this museum is not only for children, but they will surely like to look at beautifully dressed dolls and learn some interesting facts related to them. There are 500 dolls here dressed in traditional costumes from different parts of India. Besides these, there are many dolls from different parts of the world too. Your visit to the museum will turn into several hours of ethnographic walk, but it is definitely worth it. In Pondicherry, there is the Jawahar Toy Museum, where you can see more than a hundred exhibits from all over India. They are beautiful, unique and each of them has its own history.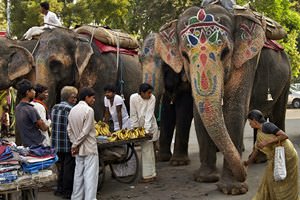 Children who adore outdoor activities will definitely enjoy rafting down the holy river Ganges. A walk along the wide river surrounded by trees and mountains will be remembered for good. This is a way to stay alone with nature and the sacred waters of Ganges. Many of the Indian streets are suitable for cycling. You can rent a bicycle in any city. Those who love spending time on the beach should visit Goa. The sand here is always clean and smooth, and the water is warm. You can go on safari excursions to see wild Indian animals such as monkeys, tigers, and elephants in their natural habitat, visit tea plantations, and go to yoga classes. India offers lots of great opportunities, and every tourist with children will definitely find something suited to every taste.