The city of Ajman is located approximately 10 kilometers from Sharjah. This is quite a calm and "modest" settlement. It is often considered the poorest region in the UAE. The city's territory is also much smaller compared to other cities of the country. Nevertheless, this is a great vacation destination with beautiful nature and a tranquil atmosphere. Fantastic beaches with gorgeous palm trees are perfect for restoring peace of mind. Ajman is a cozy city with friendly people.
Ajman is one of the most attractive destinations for vacationers with children in the United Arab Emirates because of numerous entertainment centers and opportunities for family recreation. …
Open
The foundation of Ajman took place in 1816. Sheikh Rashid bin Humaid Al Nuaimi and his followers were the first settlers in this area. For many years, people had to work hard to survive. They were fishing, growing crops, and even trying pearl fishery. Thanks to these efforts, people got enough money to establish first manufactures. Starting from that moment, local people began to make clothing, blankets, and pavilions for sale.
For many years, Ajman was the leader in pearl fishery until Japan outperformed it. The technology of pearl cultivation drastically changed prices for pearls, causing great revenue losses for the emirate. 1950 marked the start of a new epoch for the history of Ajman as Sheikh Rashid bin Humayd Al Nuaimi became the ruler of the area. The city started developing, and so many consider this year the second birthday of Ajman. Copyright www.orangesmile.com
Ajman has enough attractions to plan an interesting excursion program. Ajman Fort is the main historic landmark of the emirate. It was built in the 18th century as the emir's …
Open
The number of restaurants and eateries increases every year. Guests can easily find restaurants that serve different cuisines of the world. Local cafes are always ready to offer local delicacies to guests of Ajman who, in their turn, will be pleasantly surprised at affordable prices. Even vegetarian guests will not feel forgotten here. Do you like pizza? Local dining establishments are ready to offer delicious pizza to their guests. The Bukhara restaurant specializing in Indian cuisine has a rich menu full of delicacies and specialties. All restaurants can sell alcoholic beverages, but there is a local rule that prohibits drinking alcohol in public places.
Nowadays, many tourists visit this emirate to enjoy sunbathing. Local beaches greet their guests with soft white sand and warm turquoise-colored water. Local sand is so white that is almost looks like snow on a sunny day. Residents of Ajman are proud of their beaches because these are true pieces of paradise on earth.
Tourists can enjoy interesting activities in Ajman. Beach recreation should be an essential part of a vacation here. Ajman beaches are comfortable and have a well-developed infrastructure. …
Open
If you book a room in one of the hotels near the seaside, then you can use local beaches free of charge and enjoy their infrastructure. However, tourists in Ajman need to keep in mind one thing - women with small children may not be allowed to enter certain places if there are men present there. There are days when men cannot enter some beaches because these beaches are reserved for women with children. This is when ladies can relax, sunbathe, and play with their children freely.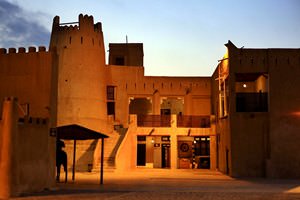 Ajman's beaches are perfectly suitable for children because they are not very crowded and are very peaceful. Most beaches have a kids' playground, numerous cafes, and even special beach volleyball courts. Do you like barbecue? You can enjoy it in Ajman because there are many comfortable barbecue areas where visitors can cook their food and relax.
Colorful markets and malls in Ajman are great destinations for shopping in this emirate. Foreign tourists usually want to purchase locally produced goods. Only some people arrive here to …
Open
However, the city is good not only for recreation but also for sightseeing. The Museum of History is a great place to visit for everyone who wants to learn more about the emirate. Visitors will see buildings made by first settlers of Ajman. These houses are made from palm trees. There are also boats, old weapons, and one more interesting exhibit – a windmill, the main purpose of which was to cool air.
Tourists in Ajman may find it interesting to attend traditional local entertaining events such as camel racing. Events of this type are almost impossible to see in European countries, so this is a mesmerizing and very interesting experience. During a vacation in this gorgeous region, tourists can also go to the countryside and drink water from the local mineral springs. This water is rich in substances that have a healing effect on the body. Local mineral water is particularly useful for tourists who suffer from climate change.
Ajman is one of the most attractive destinations for vacationers with children in the United Arab Emirates because of numerous entertainment centers and opportunities for family recreation. …
Open
It is possible to reach Ajman only by taxi, but don't forget to negotiate the price of the ride in advance. It is cheaper to order group transfer, but there is one condition – the number of passengers is strictly limited to four. There are tourist buses in Ajman, but these bus rides are commissioned by local hotels to transfer tourists.