Manama's Gold Souq market, renowned throughout the world, is for many the first association with shopping. This place is famous for its gorgeous jewelry, precious stones and pearls. The goods are imported from various countries. It is here, that you can purchase the cleanest and most beautiful Bahraini pearls at the best price. Local prices will please even frugal visitors, they are lower than in many European countries. Appropriate jewelry is also found here for demanding wealthy customers. An importance of haggling over price is one more attractive opportunity.
The most interesting shopping area of Manama is Bab al-Bahrain. On its territory is located a world-famous market of the same name. This is a real oriental attraction for European travellers, where they can purchase beautiful clothes in national style, jewelry and hundreds of lovely souvenirs. Especially popular with travellers are hand-painted clay plates, ladies will be delighted with a large choice of inexpensive jewelry and costume jewelry. This is where you should go for popular spices, traditional handkerchiefs and gifts. Copyright www.orangesmile.com
Some hotels in Manama are unique, so they are known not only outside of the city, but also in other countries. The Westin Bahrain City Centre situated in the same building with the largest …
Open
City Center Bahrain is among popular shopping centers of the city. It is very similar to European malls by its design. Within its walls you'll find popular brand shops, lovers of designer clothes and shoes will surely be interested in walking around here. Another attractive feature of the place is a cozy food court, surrounded by shining shop windows.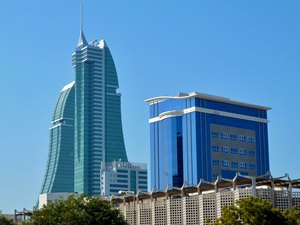 Moda Mall - Bahrain World Trade Center is one of Manama's most fashionable shopping centers. It occupies a complex of two skyscrapers. This shopping center is just amazing. There isn't enough time in the day to get around all its shops. Besides the traditional clothing and footwear stores, there are many food pavilions that sell popular spices and national delicacies. Beautiful ladies will certainly be satisfied with large cosmetics stores and exclusively organic products.
Manama is famous for its large selection of stylish modern hotels, among which a special place is occupied by The K Hotel. Its interior is inimitable, as it incorporates the best national …
Open
Gold City store specializes in selling jewelry. Like Gold Souq market, they also sell gorgeous jewelry with local pearls. The choice of jewelry here is very large, budget customers will be able to pick up elegant rings, wealthy visitors have a choice of chic necklaces and watches made of precious metals.
There are several wonderful antique shops in the city. Asia Carpet & Antiques is one of the most famous. Many people visit this store In a search for rare antiquities, while others are attracted by a large number of colourful handmade carpets. Despite the fact, that the price level in this store is quite high, it is always full of visitors. Many tourists visit it as a museum.
Manama is proud of its luxury hotels, each of which has its own unique features. Gulf Hotel is in demand among fans of upscale resorts. This lodge is surrounded by a gorgeous tropical …
Open
Among other attractive places for shopping is Al Raya Mall Shopping Center, which will appeal to lovers of gastronomic shopping. On its first floor, a popular supermarket is located, where national products and delicious bread from local bakeries are sold. There're also some restaurants offering the domestic cuisine of Bahrain.
Shopping in Bahrain
Gold Souq (Golden market) is located in the heart of the colorful city of Manama. The largest range of jewelry made of gold, as well as other precious metals and pearls are presented here. You can buy anything: a ring, bracelet, or other jewelry. In addition, there are exclusive and original products on the market. You can find a suitable version of gold-plated jewelry at an attractive price on the market even if you have a small budget. Gold Souq is a place where you can get unforgettable impressions and positive emotions. You can try on any jewelry you like, even if you don't buy it. …
Open