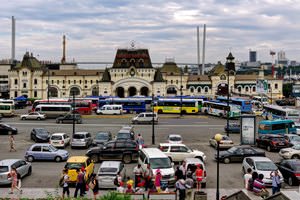 One of the most popular gastronomic establishments in Vladivostok is the Michelle restaurant, located in one of the high-rise buildings of the city. The restaurant's hall is decorated with exquisite colored stained-glass windows; during the meal visitors can enjoy the panoramic city. The restaurant offers a wide choice of dishes of national and international cuisine. Lovers of seafood like to relax here. The name of the restaurant "The Fifth Ocean" fully corresponds to its direction. It is located in the heart of the city, with a seaside restaurant just a couple of steps away. The choice of dishes from the seafood here is simply huge; the restaurant has won the respect of hundreds of discerning gourmets.
Vladivostok occupies the southern part of the Murav'ev-Amursky peninsula. It is located in the Zolotoy Rog Bay. The city stretches along the eastern coast of the Amur Bay, more than 9,000 …
Open
Most recently, the restaurant "Private Property" began to receive guests. It specializes in cooking dishes of European cuisine and has a stylish décor; thrifty travelers will surely like to rest here. Those who are on vacation with children will be pleased to visit the popular pizzeria "Pizza House". In addition to Italian delicacies, the pizzeria serves a lot of popular dishes of European cuisine, and for the youngest visitors there is a special menu and a colorful play area. In the "Bel Bazar" coffee house where coffee is perfectly prepared, there are excellent sofas where you can relax after long walks around the city. In this popular place, there is always a relaxed atmosphere and visitors are offered a lot of branded desserts and light snacks.
For those who prefer Italian cooking, it is worth looking into the restaurant "La Trattoria", which is located near the bus stop "Lazo". In addition to a rich menu, the restaurant attracts visitors with a rich entertainment program. Famous music performers often perform in the restaurant, and enchanting show programs are organized. Copyright www.orangesmile.com
The formation of the cultural traditions of Vladivostok was seriously influenced by the neighboring eastern states. Today in the city streets you can find an incredible number of restaurants …
Open
Restaurants of Chinese cuisine are widespread in Vladivostok and one of the most popular among them remains "Pekin". It offers guests a chance to taste a lot of interesting oriental delicacies, as well as popular European dishes in its menu. Nearby is another popular Chinese restaurant "Bohai". Among its attractive features are affordable prices and very pleasant decor, made in a modern style. Among the hundreds of gastronomic establishments in Vladivostok, everyone will find a place to relax to his liking.