Koreans are widely recognized as workaholics. This is true but this doesn't mean that Koreans are bad at having fun and celebrating. They like holidays and public festivities. Tourists can witness some festivals or celebrations at any time of the year. As the country is quite small and has a well-developed transportation system, it is easy to reach any settlement that has a holiday or an interesting event. However, if you visit South Korea for the first time, there is no need to leave the capital. Around one-fifth of the country's population lives in Seoul, so there is always something interesting going on here. If you want to see both the sea and the mountains, you will have to leave the capital and travel across the country.
Mountain recreation is widespread in South Korea. It is no less popular than beach holidays. Here are some of the popular winter resorts: Yongpyong, …
Read further
There is a change of seasons in South Korea. Winter is mostly cold, summer is hot, and spring and autumn are moderately warm. In winter, there are always many festivals dedicated to fish and winter fishing. Tourists can participate in these events the same as Koreans. Fishing competitions are an essential part of these events. There are different methods of fishing. Some even try to catch fish with their bare hands. During, Hwacheon Sancheoneo Ice Festival, a popular event that takes place in January, tourists can participate in ice fishing or try to catch trout in a pool using their hands only. This event is always crowded and fun to attend. As a rule, most winter festivals take place in January and February. These are such events as Pyeongchang Trout Festival, Inje Icefish Festival, and Jaraseom Singsing Winter Festival.
At the end of April and the beginning of May (lunar calendar), Koreans celebrate a national holiday – the Birthday of Buddha. It is widely celebrated throughout the country. Administrations of Korean cities try to organize various interesting festivities such as free concerts, parades, and performances. This is the time of such interesting festivals as the Lotus Lantern Festival that lasts approximately 2 weeks. Roughly one month before the start of the event, colorful lanterns are installed along the streets. These lanterns illuminate the area at night. The holiday reaches its culmination on May 12 when a grandiose light show brings together multiple viewers. More than one hundred thousand lanterns illuminate night Seoul. Copyright www.orangesmile.com
1. Do not leave tips or any extra money in South Korea. Staff at hotels, cafes, or restaurants will not understand this and will try to return the …
Read further
There are many interesting events in mid-summer in Korea such as the Bucheon International Fantastic Film Festival, Buyeo Seodong Lotus Festival, Jeongnamjin Jangheung Water Festival, Busan Sea Festival, Tongyeong Great Battle of Hansan Festival, Fireworks Festival in Pohang (the international one takes place in Seoul on October 6), Festival dedicated to traditional Korean ceramics in Gangjin-gun, and many other events. Some festivals are very unusual, such as the Boryeong Mud Festival, one of the most popular festivals in South Korea that takes place in the town of Boryeong approximately 200 kilometers from Seoul. During the event, people can try to swim in the mud pool, try mud slides, participate in mud skiing, and much more.
Tourists wishing to learn more about the modern culture of South Korea cannot neglect its music events such as the Opera Festival in Daegu, Classical Music Festival in Pyeongchang, and Rock Festival in Seoul. Korean pop music (k-pop) occupies a special place in the country. Popular performers are called idols. Every year, hundreds of boy and girl bands release thousands of new music videos and singles. Many teenagers in South Korea dream of becoming idols. Popular entertainment agencies regularly hold auditions and train future stars in special idol schools.
Many tourists visit South Korea every year, so the country has a well-developed tourist infrastructure. It is easy to notice that local authorities …
Read further
Idols smile from posters and are regularly present in advertisements. Their images can be found on fridge magnets, bookmarks, packages with food (nuts, dry fish). Of course, there are many k-pop merchandise items such as t-shirts and toys, etc. K-pop is an important part of modern Korean culture. If you want to join the euphoria, visit a concert of a popular k-pop band such as BTS. During big holidays, it is possible to see performances of popular idols at free concerts. Cheonggyecheon Square in Seoul is one of such places.
In Seoul downtown, there is a small stream called Cheonggyecheon. The stream was flowing in a large concrete pipe for most of the 20th century. In 2003, the pipe was removed, the stream was cleaned, and the surrounding area was redesigned into a beautiful green place. Today, this is a popular park great for strolling, a green oasis in the middle of the concrete jungle. This attraction is popular with both Koreans and foreign guests. People come to relax near the water stream and listen to the wind in the grass and trees.
Now let's talk about items and souvenirs worth buying in South Korea. Tourists can buy souvenirs anywhere but shops in large cities like Seoul and …
Read further
Cheonggyecheon is a popular location of various concerts and festivals. The Seoul Lantern Festival is one of the most famous autumn events. Large lanterns are dedicated to different themes such as history, romantics, everyday life, nature, etc. It is free to enter the festival. By the way, visitors can attend k-pop shows during the event. It is never boring to visit Cheonggyecheon. Most important, it is absolutely safe because South Korea is one of the safest countries in the world. Visit this area in the daytime, take a stroll, check the schedule of the upcoming events, and return to Cheonggyecheon to visit the events that you like.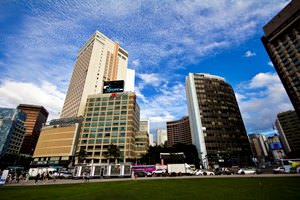 The waterfront is always crowded, especially in the evening. On weekends, people have fun here until the dawn, enjoying street food and music. Cafes and restaurants also stay open longer on weekend. By the way, some people say that Koreans are more skilled in cooking their national food rather than European cuisine. However, local street food is so delicious that it has become a part of the country's cultural heritage. It is definitely worth visiting Cheonggyecheon. It is located close to City Hall metro station (line 1, exit 4) and Dongdaemun metro station (line 4, exits 6 and 8).