Every woman should definitely visit a huge cosmetics store in Jerusalem, Ben Yehuda area. It offers exclusive cosmetics based on Dead Sea minerals. All the presented brands of products are manufactured in Jerusalem. They sell cosmetics of the famous Ahava brand, which is usually distinguished by rather a high price. This store offers lines of this brand at a really favorable cost.
Western Wall (also known as Wailing Wall) is an internationally famous landmark of Jerusalem and a religious site of global importance. Many call it the "synagogue in the open air". Every …
Open
On the Mount of Olives is located one of the most famous souvenir shops in the city, where you can choose memorable gifts in a calm and uncrowded atmosphere. The choice of souvenirs is very large, from exclusive and rather expensive to popular trifles at affordable prices. Women will surely appreciate jewelry in national style presented here.
One more excellent women's shop is called Fix. It is located on Jaffa Street, in the very heart of the city and is stylized to resemble a colorful café. At first glance, it is hard to understand that they sell underwear and leisure wear. All products have unusual design and packaging. Some of them are packed in juice cups, others are in bright boxes, which are usually used for packing sandwiches. In this store, you can choose wonderful things for yourself and your loved ones. Copyright www.orangesmile.com
Jerusalem attracts visitors from different countries by its priceless historical and religious monuments. However, this doesn't mean that the city lacks entertainment facilities. …
Open
Not far from the Old Town is the shopping gallery Mamilla, where you can enjoy shopping and have a great rest. Here, you can find clothing shops for every taste. There are shops with cosmetics and perfumery and several jewelry stores. After shopping, visitors can visit one of the local restaurants or go to the cinema right the shopping gallery.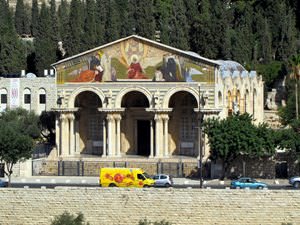 The largest shopping center in Jerusalem is called Malha. You can walk around the complex with interest and comfort in any weather. It is perfect for a family visit. Numerous playgrounds and attractions are equipped here for children. In total, there are over a hundred stores in the center, among which are clothing pavilions of famous world brands, cosmetics shops, pavilions with clothes and goods for children. There's a lot of entertainment for adults, as well. They can relax in a cafe, play bowling or go to the cinema.
1. Currency can be exchanged in banks and in specialized exchange offices, which can be found in each district. Exchange offices located at the airport traditionally offer the most …
Open
Anyone who wants to bring luxury jewelry from Jerusalem should visit Ophir store. It is a real historical sight of the city that has been operating for more than 50 years. In this store, you can choose fabulous jewelry in classic Middle Eastern style and more original Art Deco items. Almost all the presented goods are made by its owner, one of the best jewelers of Jerusalem and Israel, as a whole.
For unusual souvenirs go to Palestinian Armenian Pottery. They sell wonderful ceramics. The store is combined with an old workshop, which has been operating for more than a hundred years. All the goods are handmade, exclusive and of the highest quality. You can purchase beautiful dishes with Christian motives or small souvenirs made of ceramics at affordable prices.