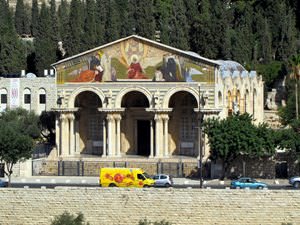 Jerusalem is associated in many respects, primarily with religious sights. However, the city is perfectly suitable for an interesting holiday with children. For the youngest travelers, there are interesting amusement parks, one of the best being Kiftzova. This entertainment complex is very large and beautiful. It has an indoor pavilion with various games rooms, and a well-equipped area with a lot of attractions for children of different ages. For kids in the park, interesting games and entertainment are organized. Everyone can be photographed with animators dressed in the costumes of famous cartoon characters.
Western Wall (also known as Wailing Wall) is an internationally famous landmark of Jerusalem and a religious site of global importance. Many call it the "synagogue in the open air". Every …
Open
Those who like to relax in the open air, will definitely like the Gan Sacher Park. It is very beautiful and equipped. The park has many trees and paths for hiking and cycling. This park is one of the few in Jerusalem, where there are equipped barbecue spots, and many spacious glades for active games. This picturesque park named after its founder, is very popular not only among tourists, but also among locals.
Perfect entertainment for families with school-age children, would be a trip to the park Matzok. In this park, there are interesting tours on off-road vehicles, during which one can see a lot of natural attractions and admire the wonderful scenery. Excursions around the park last several hours, and customers can choose the optimal duration themselves. Copyright www.orangesmile.com
Jerusalem attracts visitors from different countries by its priceless historical and religious monuments. However, this doesn't mean that the city lacks entertainment facilities. …
Open
Nature lovers will definitely love the Tisch Family Zoological Gardens - a very pretty and well-kept place, where one can see representatives of the animal world, typical for Israel and the continent as a whole. Among them are elephants that live in spacious enclosures, as well as large tortoises and lovely marmots, and predatory birds that live in a separate pavilion. A separate pavilion is outfitted for tigers, while pink flamingos live in an artificial lake. The zoo is very large, so visitors can walk comfortably along its territory. There are trees planted everywhere, with benches in their shadow. Near the enclosures are observation platforms, from which it is very convenient to observe animals.
Excursions to the Eyal's Farm are very popular among tourists with children. This is a real farm whose visitors can communicate with typical pets, and learn to care for them, and also try products that are produced on the farm. It is located in a very beautiful natural area and has many interesting places for walking and places where one can arrange a family picnic.
1. Currency can be exchanged in banks and in specialized exchange offices, which can be found in each district. Exchange offices located at the airport traditionally offer the most …
Open
There are also classical children's museums in Jerusalem, including Bloomfield Science Museum. This scientific museum offers its young visitors the opportunity to get acquainted with the most different areas of science. Excursions here are held in a playful form. This museum is not at all like ordinary museums. There are many interesting attractions for children here. All the artifacts can be touched, and the essence of some experiments lies in all active amusements loved by children. This museum will be interesting to visit with children of any age, as playrooms and excursions here are prepared for both very young and older children. Kids can build beautiful sand castles or play with meccano, while schoolchildren will be invited to participate in carrying out interesting scientific experiments.