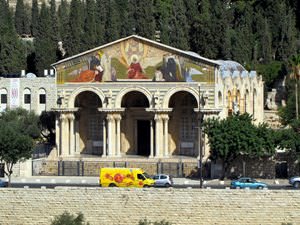 In Jerusalem tourists are traditionally interested in restaurants dedicated to home cuisine. It is believed that these are the best places to taste most delicious national dishes prepared according to old recipes. Ramho restaurant is an ideal place for quiet and secluded rest. The restaurant offers many popular national dishes at very reasonable prices. The signature dish of this restaurant is the soup with Kube meatballs, and vegetarian visitors will surely fall in love with Majedra dish, which is cooked from rice and lentils. The restaurant serves guests on weekdays only. Thanks to attractive prices and high quality of food this place has won love and respect of citizens and tourists a long time ago.
Jerusalem is associated in many respects, primarily with religious sights. However, the city is perfectly suitable for an interesting holiday with children. For the youngest travelers, there …
Open
Ima restaurant dedicated to the national cuisine is an equally attractive place. The choice of meat delicacies and delicious side dishes is simply huge here. Prices for food are also very attractive - a complete dinner will cost visitors around 80 shekels. In Jerusalem tourists will find eating places of different culinary trends. Masaryk restaurant is a very famous destination for food connoisseurs. It specializes in Italian cuisine. In addition to delicious pasta with traditional sauces, visitors are offered to try a wide choice of seafood dishes. A part of the restaurant's tables is served on the terrace, which makes a meal here even more enjoyable.
The name of Meorav Yerushalmi restaurant can be literally translated as "Jerusalem Mix". Its menu will surely impress fans of meat dishes. The restaurant is classified as a fast food facility. However, quality and taste of the dishes served here are always on top. A large part of the restaurant's menu is represented by dishes made of chicken. In addition to meat visitors will be definitely offered to order rice or a fresh salad as a side dish. Copyright www.orangesmile.com
Jerusalem is a city which is characterized by a particular rhythm of life. Foreign tourists may consider it strange and unusual, but visitors who manage to feel the local culture will be …
Open
Tourists who want to try the best humus in the city are recommended to visit Hummus Ali Hassan restaurant. Skilled chefs of the restaurant prepare national dishes in accordance with classic recipes. The age of some recipes is several hundred years. The restaurant's chefs also have their own secrets that make the food served there even more original and notable for its special flavor palette. When it comes to describing the city's cafes, we should definitely mention YMCA. According to experts of the local cuisine the best onion soup of the city is served there. Among other attractive dishes worth noting tourists are recommended not to forget about various fresh salads and dairy desserts. Popular fast food restaurants and small cafes can be found literally on every street of the city. Emek-Refaim Street is particularly rich is charming dining facilities.
For many travelers, the traditional cuisine of Jerusalem is all about stuffed fish and various pates. However, the menu of the regional cuisine is not limited to these dishes. Even bread tastes differently at local restaurants because it is made in a special oven. Locals eat the majority of food with flat unleavened bread. Pita is also very popular in the national cuisine. This bread is often eaten stuffed with meat and different vegetables. Challah is one of the most attractive local types of bread. Eye-catching loaves of Challah seasoned with sesame seeds are reminiscent of a dessert.
Western Wall (also known as Wailing Wall) is an internationally famous landmark of Jerusalem and a religious site of global importance. Many call it the "synagogue in the open air". Every …
Open
Local restaurants offer a broad range of interesting appetizers, and Falafel is one of the most famous dishes in this category. These are deep fried balls made of ground chickpea. Prior to roasting, various spices and fresh greens are added to the dough. This simple snack is one of the most popular types of fast food in the region.
All guests of Israel simply must try Houmous. It is believed that it is possible to try really authentic Houmous only in this country. Chickpea is the main ingredient of this ever-popular paste. The dish necessarily contains tahini, lemon juice, garlic, and olive oil. Local cafes usually serve Houmous together with a special bread type that is similar to Lavash.
Jerusalem attracts visitors from different countries by its priceless historical and religious monuments. However, this doesn't mean that the city lacks entertainment facilities. …
Open
Baba ghanoush is one more unusual local dish that is usually served as an appetizer. It contains eggplants that are first grilled until ready and then mashed. Traditional Shawarma is one more dish that travelers should try during their stay in Israel. It is available in virtually all restaurants and even small street kiosks. As a rule, local Shawarma contains beef meat, but there are more expensive and delicious variations, for example, Shawarma with lamb meat.
Travelers, who visit one of the local restaurants in the morning, should order Shakshouka for breakfast. This is an original dish containing eggs that locals adopted from Moroccans. Shakshouka is somewhat reminiscent of scrambled eggs with tomatoes. The dish is usually served with grilled eggplants and goat cheese. Some restaurants also add sausage to this popular breakfast choice. Besides Shakshouka, locals often eat Borek for breakfast. It is a pie made of flaky dough that can come with various fillings.