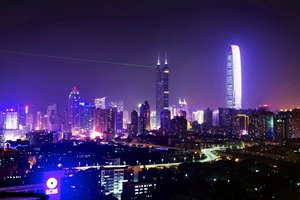 Going to any country, tourists certainly want to bring home something that would convey the national flavor and cause pleasant associations. China offers a wide selection of traditional souvenirs, authentic goods, which can be found in ancient markets, expensive boutiques and shops throughout the country. Typically, shops are open from 9:30 AM to 8:30 PM and offer a broad range of products. Private shops may work until 10:00 PM so that anyone can find everything they need at a convenient time.
China is a country of amazing discoveries, fantastic routes and great opportunities for travelers. Here you can just walk leisurely along mountain …
Read further
Bailian Zhonghuan Mall is the largest shopping center in Shanghai. Here you can buy branded clothes from major European brands - Louis Vuitton, Gucci, Prada, etc., but the price will be higher than in Europe due to high tax rates. Beijing Great Gold Mall in the vicinity of Beijing is a six-story building where one can find products for every taste and purse. It houses boutiques of famous Chinese and European brands, but it is not very convenient to reach them due to the mall's remoteness from the center.
New South China Mall in Dongguan is the world's largest shopping mall. The building's Interior is very original. The mall is divided into seven thematic zones designed in the style of different corners of the planet: Paris, Rome, Venice, Egypt, the Caribbean, etc. However, the project hasn't paid for itself, so most of the pavilions are currently empty, and the parking has been converted into a go-kart track. In Guangzhou, the largest shopping center Teem Mall offers visitors shops, food courts, fitness center, entertainment for children, great opportunities for holding business conferences. Copyright www.orangesmile.com
China is an amazing authentic country, traveling to which can help tourists discover the world from the other side, as well as learn a lot of new …
Read further
On the outskirts of Beijing, Shanghai, and Hong Kong, there are outlets where you can find clothes and shoes of excellent quality at reasonable prices. Scitech Premium Outlet Mall in Beijing attracts tourists not with sales of up to 80% during the right season, but also with an unusual neoclassical-style interior with colored columns. Citygate Outlets in Hong Kong is the largest center where you can find products from famous European brands at competitive prices. When shopping in China, keep in mind that good-quality goods may be expensive, and many of them require export permission, which is only issued in special stores.
The famous Silk Market is located in Beijing. It is actually a large shopping mall where you can buy excellent-quality silk and products made of it, as well as wallets and bags from genuine leather. Here you can and should bargain - goods are often overpriced for foreigners. In Hong Kong, Jade Market offers jade products: jewelry, amulets. A symbol of this place is a three-ton jade block standing at the beginning of the street.
For traveling to China with children, it is recommended to choose seaside resorts. A warm climate and sandy beaches are perfect for a peaceful …
Read further
Throughout the country, you can find street markets full of traditional Chinese souvenirs: hand fans, rice paper, porcelain figurines. Chinese tea is another popular gift. Fangcun Market in Guangzhou is the largest complex, which includes more than three thousand shops and occupies several quarters. Different varieties of black and green tea, Pu-erh, Oolong are sold here. The price varies from one to several thousand US dollars. In the same place, you can buy tea ceremony sets.
The Temple of Heaven is the main goal of many foreign tourists. It is a popular pearl market in Beijing where you can buy jewelry without fear of fakes. Porcelains deserve special attention - traditionally painted Chinaware is sure to decorate any interior. For antiques, it's best to go to Dongtai Lu Antique Market in Shanghai where tourists are offered a huge selection of antiques: bamboo rosary, watches, jewelry, books, and much more. On the night market on Temple Street in Hong Kong, besides shopping, you can entertain yourself chatting with speaking parrots and meeting representatives of the oldest profession. This street is known from many scenes in films about gangsters.
The luxury hotels in China, deserving attention of the most discerning traveler.
Read further
Among other things, from China, you can bring natural cosmetics, as well as medications and drugs sold in local pharmacies. Ginseng and donkey gelatin are recommended for strengthening the immune system. A shopping trip to China should be planned with taking into account sales that usually fall on public holidays: October 1, May 1, Chinese New Year (January 21 - February 21). The only European tradition is Christmas sales in mid-December.